11 Feb

Ready to Hang Canvas
Printing on the best available profiled media including 100% cotton canvas
Spray Lacquer or Lamination for protection & durability
Framing with our standard size of 30mm (1.18″) stretcher bars (20 or 40mm stretcher bars optional) from regrowth timber.
1.77″ (45mm) stretcher bar is used on canvases larger than 30×30 inches.
A wire hanger is included on all RTH Canvas prints, and will come delivered with bubble wrap for protection
We recommend a test strip for colour critical applications. Shipping charges & hardcover box packing for local & interstate delivery are extra.
All prices include the cost of the canvas printing, stretching/mounting and spray laquer for protection. Lamination is available at an extra cost.

If your size is not listed, please use the next price up (eg. A 16 x 22 inch RTH Canvas would be charged at the 18 x 24 inch rate)

When preparing your file for a RTH Canvas order, please add 2 inches on every side to accommodate the wrap. You can use image to wrap or add a black or white border.
File Setup Tips for Ready to Hang Canvas
To enable your image to wrap, add 2″ to each side of the image. E.g. : RTH 18 x 20″ canvas, supply an image 22 x 24″. E.g. : RTH 30 x 40″ canvas, supply an image 34 x 44″.
Test colour accuracy for colour-critical applications.
Canvas does not stretch perfectly "square". Avoid straight lines near edge of the image.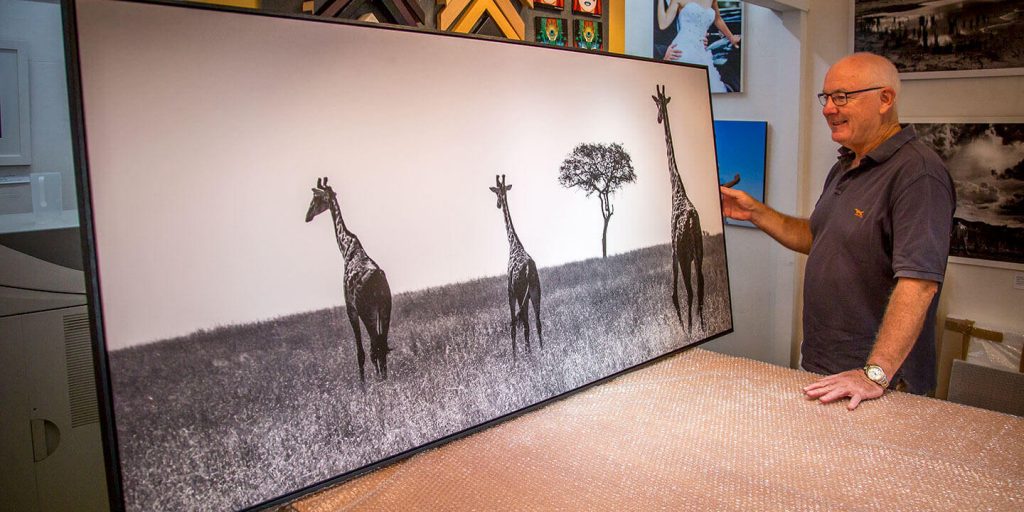 We have a range of trim frames to complement your stretch canvas frames. Also known as shadow box frames, these sit neatly with a 5-10mm shadow line between canvas and reverse frames making a great looking finished product.
Ready for superior quality and service?