11 Feb

Board Hangers
LIGHTWEIGHT STRING HANGERS
Lightweight string hangers are a cheap effective method of hanging light weight boards. They work well for Foamboards and Gatorboards. Holds up to 2 kgs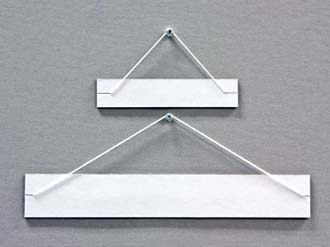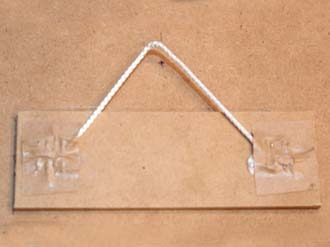 Wood Hangers consist of a strip of MDF with 2 D Rings and a wire. They are used in heavier or larger foamboards (from 2kgs to 10kgs) and in heavier boards like MDF. Can also be used as 2 D Ring without the wire.
These are our standard hangers for small frames. We use these for frames up to A1 size. Larger frames should be hung from 2 points such as with the Two D Rings or security brackets.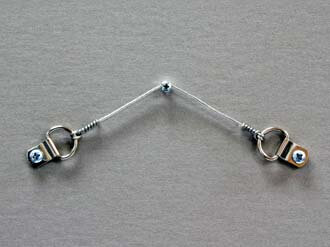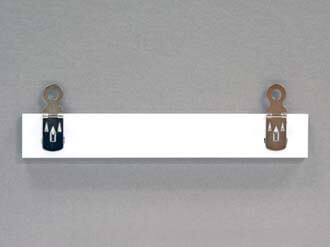 These are D Rings with prongs designed to push in, lock and hold on foamboards. Works on 5mm, 10mm and 20mm boards. They can be attached anywhere on the board and a pair spaced apart does a good job of holding landscape panels securely. Will hold up to 8kgs per pair.
Metal Hangers consists of a metal strip with 2 D Rings and a wire. They hold heavier boards (from 2kgs to 10kgs) and are especially good with Aluminium, Alupanel and Acrylics.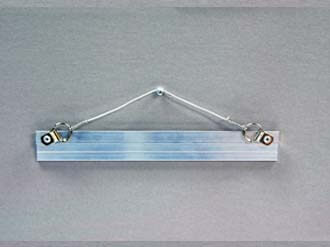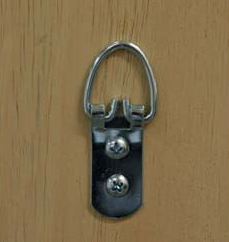 These are very flexible hangers – can be fitted to 2 hooks or screws or hung from a track hanging system. A range of sizes is available for heavier frames.
These consist of 2 wooden rails with one edge cut at 45 degrees. One rail is glued to the back of board and other is screwed to wall. The rail on board interlocks to the one on wall and panel sits securely once hung.
This system will hold heavy boards of more then 10kgs and can be designed to hold extra weight by designing the size of the batten. Split Batten systems makes hanging heavy jobs simple. The positioning and fixing is done with the wall batten only. Once wall batten is fixed, the panel is lifted onto the batten.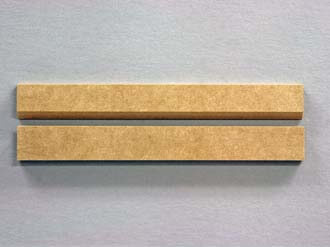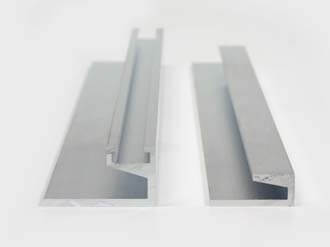 U Channel frames come in 2 sizes -the small (12mm) size and the large (23mm) size. Large U Channel frames are joined on corners with metal joiners for additional strength
These consist of 2 metal rails with an interlocking profile. They work in a similar fashion to wooden split battens, but the metal profile is slim line with just a 5mm depth. This provides for little gap between board and wall in situations where minimum separation is desired.
Metal Split Battens also work well with Acrylics, Aluminium and Alupanel as it bonds well to these materials. In addition, they have better archival properties when matching to archival mounts.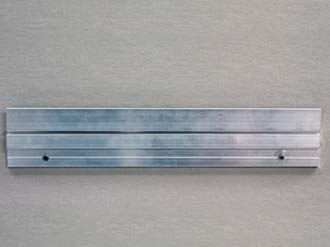 These can be used as standard hangers fitted over 2 hooks or screws or as security brackets by fitting over 2 screws and sliding sideways.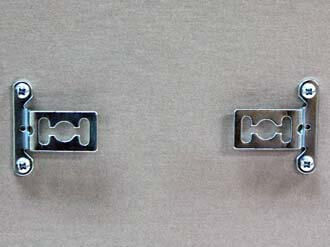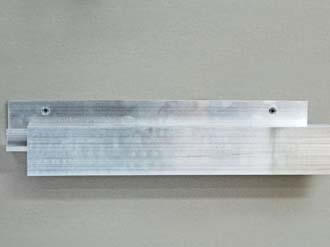 U Channel Frames are made from specially designed U-shaped aluminium extrusions with one longer leg and an interlocking profile. They are designed to glue to the back of boards as a hidden backing frame.
These U channel frames are designed to stiffen the board as well as providing the hanging point. Furthermore, they provide spacing from the wall or a floating effect to the finished works. U Channel Frames work with any boards but are especially good with acrylics where there is no ability attach fixings with screws.
U Channel Frames are normally hung from a matching U Channel hanger or rail. These match and lock onto the frame much like a split baton. As an alternative, we can fit 2 D Rings onto the frame.
Ready for superior quality and service?