11 Feb

Large Format Fine Art

Printed on one of our 10-ink Epson Stylus Pro 9900, 44" printers or our Brand New for 2019, Epson Sure Colour P20070 64″ printer. Pixel Perfect only prints with genuine Epson HDR Ultrachrome pigment inks and media, onto prepared canvas and 100% cotton fine art paper. We never compromise quality in art supplies.

Our point of difference is our paper profiling and colour management which means you get the most accurate colour recreation of your files. Each of our premium 100% cotton Fine Art papers have their own colour profile so you can be sure that what you see at home on your calibrated monitor is what you will get when you print with us.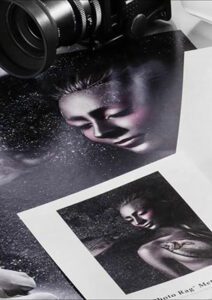 HAHNEMUHLE PHOTO RAG METALLIC
340gsm – 100% cotton – High Texture Metallic- Acid Free – No OBA's
Our newest addition to our Fine Art papers on offer. Hahnemühle Photo Rag® Metallic is a silvery-shimmering FineArt inkjet paper with a specially formulated inkjet coating for FineArt use. The high-gloss premium inkjet coating with a unique metallic effect guarantees impressive printing results with bold colours, deep black and the perfect reproduction of colour and detail. The sophisticated silver metallic effect underscores the image and makes motifs with metallic elements, reflections, ice and glass, architecture and landscape shots, as well as black and white photographs with high-contrast tones shine. Photo Rag® Metallic is acid and lignin-free and meets the most exacting requirements in terms of age resistance.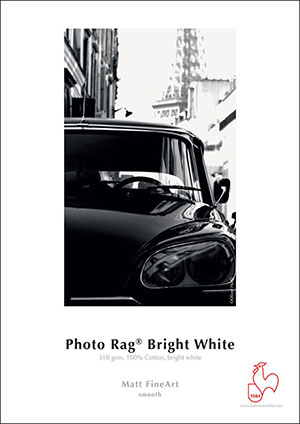 HAHNEMUHLE PHOTO RAG BRIGHT WHITE
310gsm – 100% Cotton – Smooth Surface – Acid Free – Moderate OBA's
This has to be one of our favourites due to its pure white finish. Photo Rag Bright White is the first choice for all users who prefer an especially bright white cotton paper with no texture. This stock is ideal for reproducing high contrast images. The fine, smooth surface and feel of this paper very versatile and it is ideal for printing both black and white and colour photographs and art reproductions with impressive pictorial depth. It's ideal for black and white photography but also deep blue skies and ocean photography, its definitely worth a try!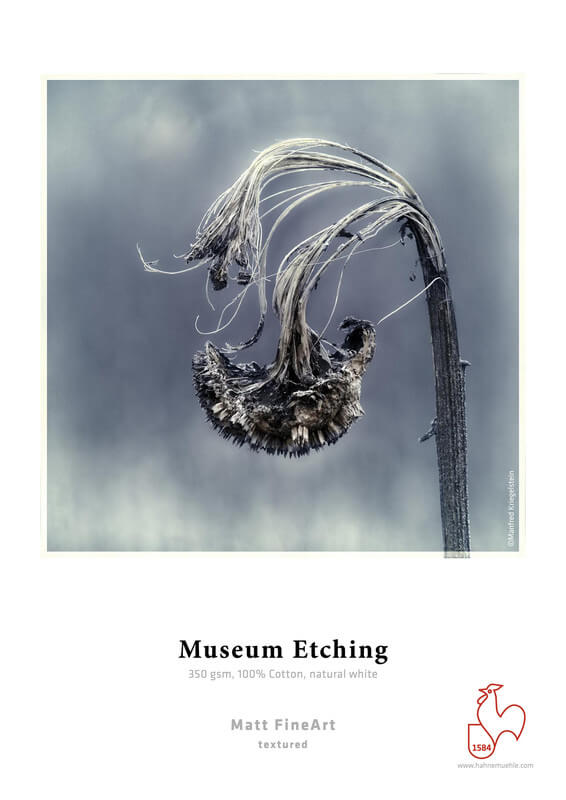 HAHNEMUHLE MUSEUM ETCHING
350gsm – 100% cotton – Medium Texture – Acid Free – No OBA's
Museum Etching displays a natural white tone and features a distinct slightly textured surface. This cotton paper guarantees archival standards. With its premium matt inkjet coating Museum Etching meets the highest industry standards regarding density, colour gamut, colour graduation and image sharpness while preserving the special touch and feel of genuine art paper.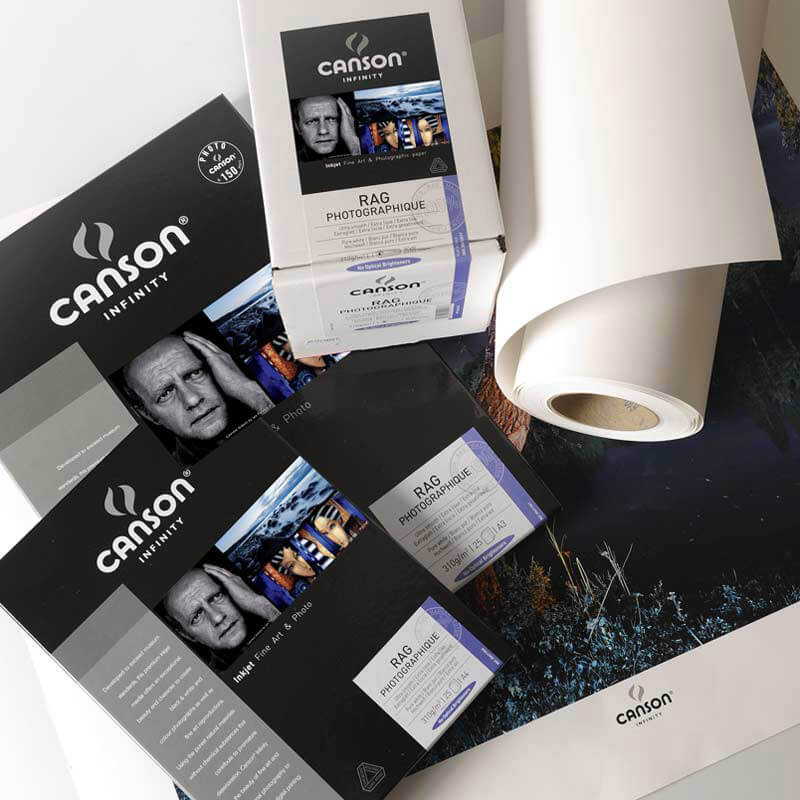 CANSON RAG PHOTOGRAPHIQUE
310gsm – 100% Cotton – Extra Smooth – Acid Free – No OBA's
Canson® Infinity Rag Photographique is a 100% cotton museum grade white Fine Art and photo paper. The exceptional smooth white tone is achieved during manufacturing by introducing natural minerals to the process. It has been developed to address the need for continued longevity requirements in the Digital Fine Art market. 
Rag Photographique offers a unique extra smooth surface with a sensual feel. It also provides one of the highest achievable Dmax currently available on the market, making it ideal for fine art photography as well as fine art printmaking.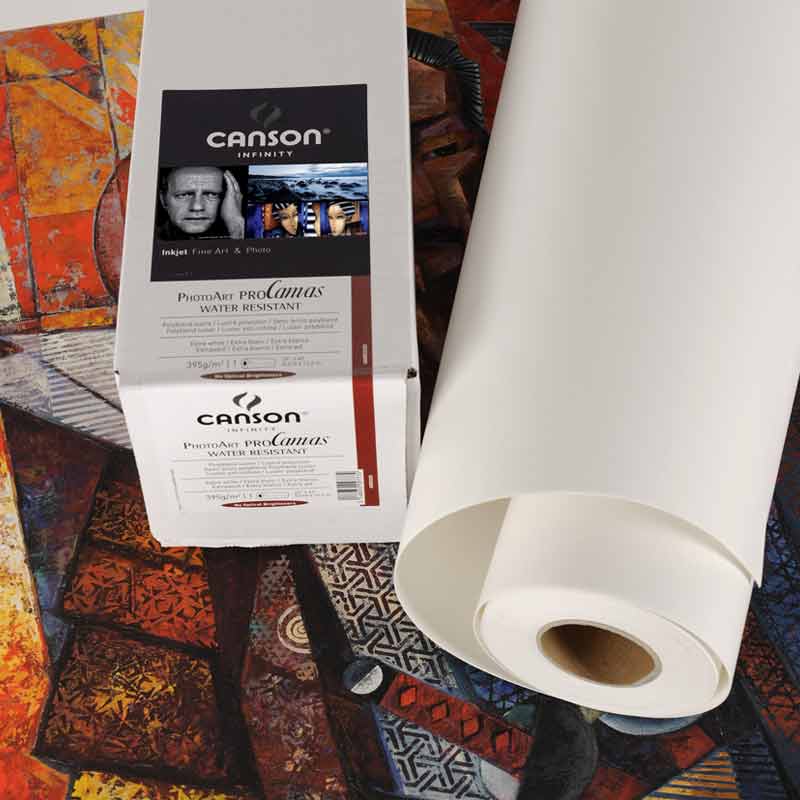 395g – Poly Cotton Matte – Textured Surface – No OBA's – Water Resistant
Canson PhotoArt Canvas is our top grade professional canvas and is "OBA Free" with no Optical Brightening Agents.
Manufactured with a high quality poly-cotton canvas base, coated with a new advanced technology of microporous coating. It is water resistant and specifically designed for professionals in search of a Canvas that can produce true Fine Art Reproductions using precision images with a very high resolution.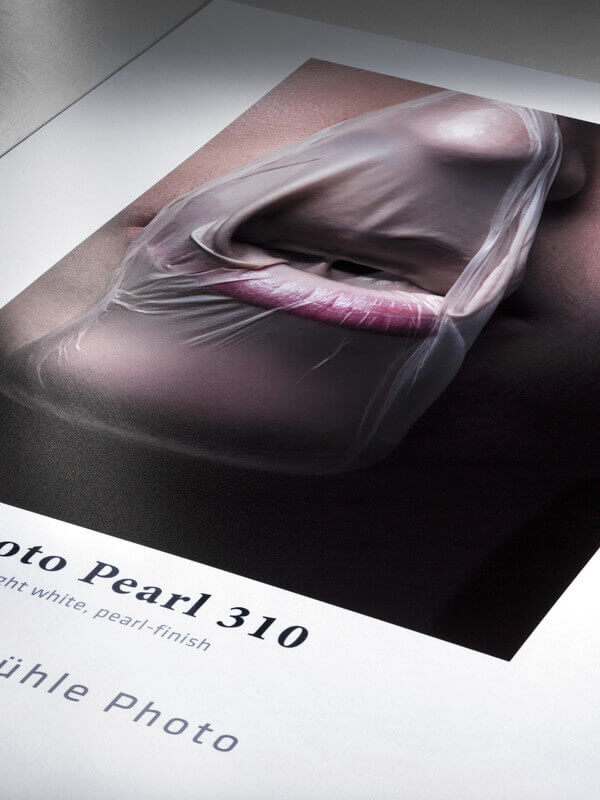 HAHNEMUHLE PHOTO RAG PEARL
320gsm – 100% Cotton – Pearl Satin Surface – Acid Free – No OBA's
Hahnemühle Photo Rag® Pearl has a smooth homogen surface structure with a unique pearl coating. The exclusive use of rag in this premium inkjet paper makes it extremely age resistant and it conforms to the highest conservation requirements.
This inkjet photo paper features a high Dmax and a large colour gamut that enables the reproduction of the finest colour and black/white nuances in three-dimensional prints. It is especially suitable for black and white and colour photographs with warm grey and colour tones and for art reproductions.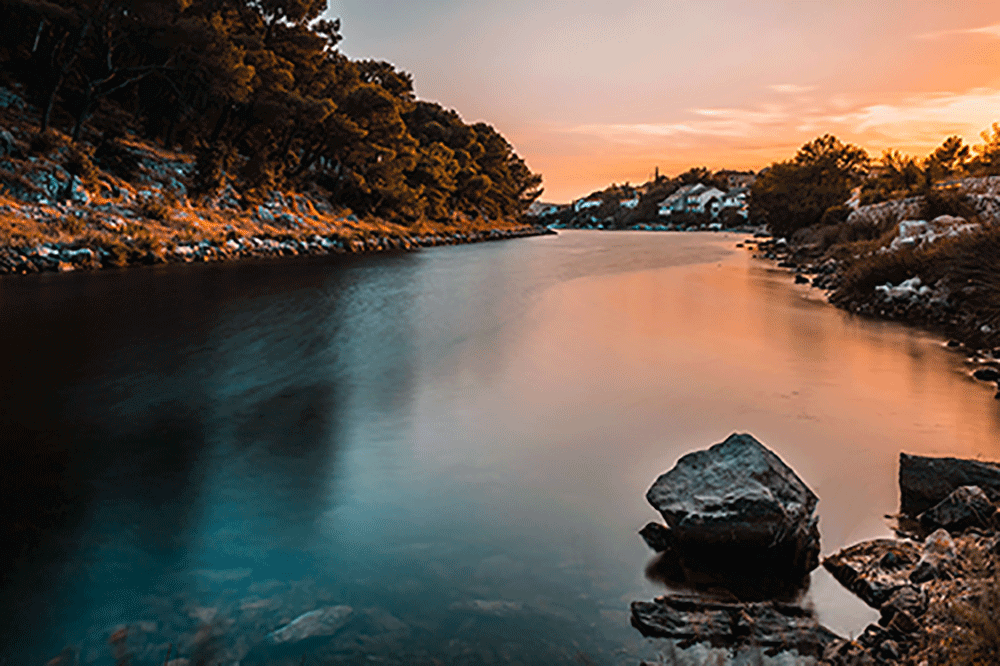 INKJETpro highly textured FINE ART PAPER
320 gsm – 100% cotton – Highly Textured – NO OBA's 
This Fine Art paper is our flagship inkjet stock and is a heavily textured paper with no compromise on sharpness. The tone is a pleasant warm shade designed for fine art reproduction, which also makes it ideal for weddings, portraiture or graphic illustration.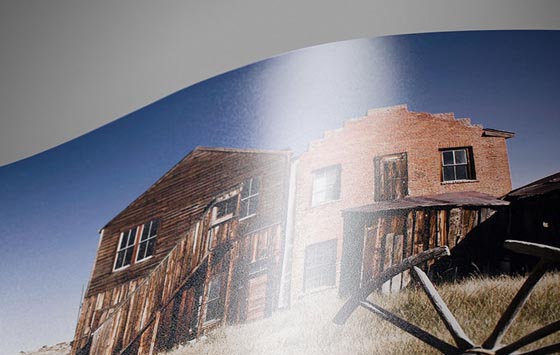 KODAK PROFESSIONAL INKJET LUSTRE
255gsm – E Surface Photo Paper – Satin Surface –  Bright White  
Featuring a true photographic resin-coated base paper and e-surface finish with pulp of unsurpassed quality.
It features 10-mil, 255-gram e-surface photo paper. Its microporous, so has an instant-dry coating on a resin-coated paper base. It has a Bright white point that provides clean highlight detail and can be thermal and cold laminated. Its suitable for High-end photography, Fine art reproductions, photo albums, greeting cards and photo books.2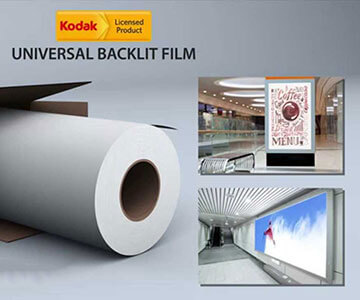 275 gsm – Polyester backlit film – Fine Texture – Natural White –
This heavyweight front-print backlit provides excellent pigment and dye image quality, high-speed drying and universal compatibility at a competitive price. With a heavyweight durable polyester Duratrans©-like support, this film offers excellent print handling and finishing characteristics, exceptional color saturation and a quick dry time.
Robust coating resists flaking when cut, along with adding scratch resistance
Water-resistant for outdoor use
Ideal for durable, scratch-resistant backlit displays in high-traffic locations including airports and shopping malls
Ready for superior quality and service?