Description
Reference Materials for Furthering Your Creativity
Learn about color management, software and printer settings for optimal screen-to-print matching, and more with free digital resources from EIZO.

Easy Screen-to-Print Color Matching
Single Cable Connection with USB Type-C
The CS2731 is the first in the ColorEdge lineup to feature USB Type-C connectivity with 60 W power delivery. With a single USB Type-C cable you can display video, transmit USB signals, and supply power to a connected device such as a smartphone or notebook PC. Simply plug in and get creative without worrying about additional cable clutter.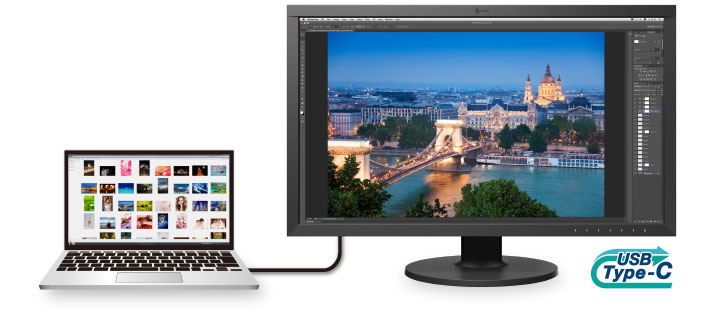 60 W Power Delivery
The USB Type-C terminal supplies up to 60 W of power, so even high-end notebook PCs stay charged while working. This frees your creative workspace of an additional external AC adapter.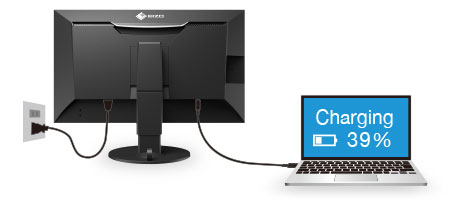 Simple and Precise Color Management
ColorNavigator 7 Software
ColorNavigator 7 is the latest calibration and quality control software for ColorEdge color management monitors. It combines all the features of EIZO's previous color management software, ColorNavigator 6 and ColorNavigator NX, to create a new and improved solution for creatives in a range of fields. The proprietary software performs hardware calibration by directly utilizing the LUT (look-up-table) of the monitor for higher precision and better gradation characteristics compared to software calibration.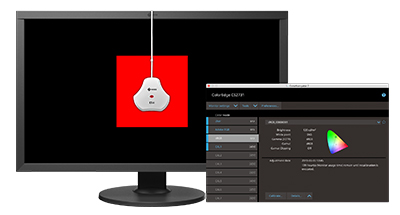 Quick Color Match Software
Even with all the right equipment, color matching can be a tedious process – from monitor adjustment to determining the best retouch software and printer settings – achieving an accurate print takes a great deal of time. Quick Color Match greatly simplifies the process by automatically adjusting to the ideal monitor, retouching software, and printer settings so you can focus on editing your photos and print your work quickly and hassle-free. Simply drag and drop your photo in the Quick Color Match window to automatically start the process.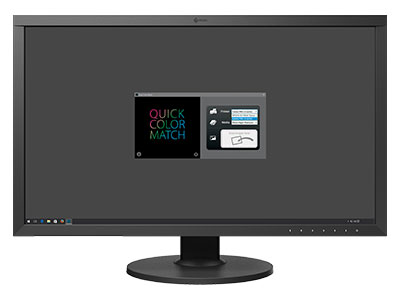 Color Accuracy
Vivid Colors Reproduced to Industry Standards
The wide color gamut reproduces almost the entire Adobe® RGB color space so images shot in Adobe® RGB will be displayed correctly. Photos of vibrant blue skies and lush green forests are reproduced faithfully in a  way that monitors limited to an sRGB color space cannot display. The wide color gamut also ensures reproduction of almost the entire ISO-coated and US web-coated CMYK color spaces used in printing.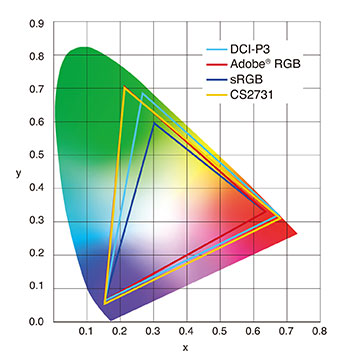 10-Bit Simultaneous Display
Using the DisplayPort or HDMI inputs, the monitor offers 10-bit simultaneous display* from a 16-bit look-up-table (LUT) which means it can show more than one billion colors simultaneously. This is 64 times more colors than you get with 8-bit display, resulting in smooth color gradations and reduced Delta-E between two adjacent colors.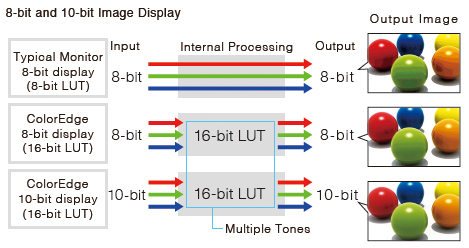 *A graphics board and software which support 10-bit output are also necessary for 10-bit display. Equipment that supports Deep Color is necessary with the HDMI inputs.   
Stable Image Display
Adjusted at the Factory for Smooth Color Gradations
The gamma level for each ColorEdge monitor is adjusted at the factory by measuring the R, G, and B gamma values from 0 – 255, then using the monitor's 16-bit look-up-table (LUT) to select the most appropriate tones and achieve the desired value. This ensures the smoothest color gradations in your images.

Uniformity Across the Screen
LCD monitors commonly exhibit fluctuations in brightness and chromaticity across the screen, affecting color accuracy. To counter this, ColorEdge monitors are equipped with EIZO's patented digital uniformity equalizer (DUE) technology which corrects deviations in every tone across the screen to ensure stable display.

User-Friendly Design
Seamless Electrostatic Switches
The flat design uses electrostatic switches on the front bezel in place of traditional buttons for seamless access to monitor setting.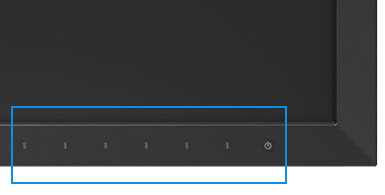 Built-In Carrying Handle
A carrying handle on the back of the monitor allows you to easily move it from one location to another.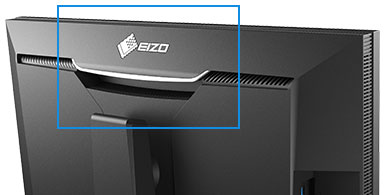 Comfort and Ease-of-Use
Ample Screen Size for Creative Work
The spacious 27-inch screen has a native resolution of 2560 x 1440, which offers a pixel count of double that of 1280 x 1024 and 60% more than 1920 x 1200 resolutions. This gives creatives ample space to work with images, tool palettes, and other windows.

Minimized Reflections with Non-Glare Panel
The monitor is equipped with an IPS non-glare panel for high visibility. It also uses dimming technology to minimize flicker and help prevent eye fatigue for a more comfortable working environment.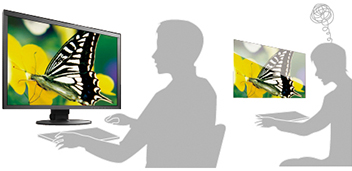 I/P Conversion for Flicker-Free Display
The HDMI input supports I/P (interlace/progressive) conversion for converting the interlace signals from TV and video into progressive signals for flicker-free display.

Wide Viewing Angles with IPS Panel
The 178° wide viewing angles afforded by the IPS panel technology allow two or more people to view the screen at once with little change in color or contrast.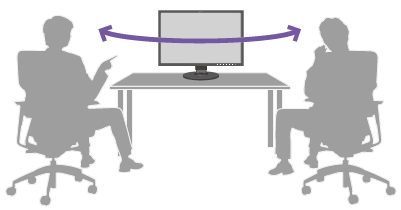 Optional Light-Shielding Hood
An optional light-shielding hood is available that effectively prevents glare on the monitor's screen caused by ambient lighting. The hood attaches to the monitor magnetically, allowing users to setup quickly and easily without needing to connect separate parts.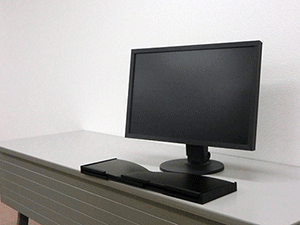 Ergonomic Stand for Comfort and Convenience
Adjust the screen to the most comfortable angle and reposition it to show your work to a colleague or client. The monitor comes with a versatile stand that offers height, tilt, and swivel adjustments as well as portrait display. The stand is also equipped with a quick release that allows you to easily remove the screen from the stand with one touch.

Multiple Inputs
The ColorEdge CS2731 is equipped with HDMI, DisplayPort, and DVI-D inputs. In addition to USB Type-C, it also has a USB Type-B and four USB Type-A ports.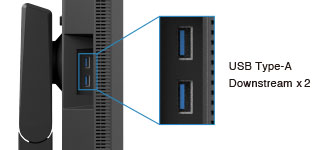 Commitment to Quality
5-Year Warranty
ColorEdge monitors are backed by a manufacturer's 5-year warranty that covers all components including the LCD panel*. EIZO manufactures its products at its own factories to allow close control over production quality and ensure each monitor is built to last.
*Usage time is limited to 30,000 hours.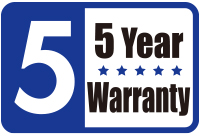 Zero Bright Pixels
EIZO guarantees its ColorEdge monitors will be free from bright sub-pixels for six months from the date of purchase.
See our Bright Pixel Policy for details.