Description
Superior color results in a fraction of the time with X-Rite ColorChecker Passport 2!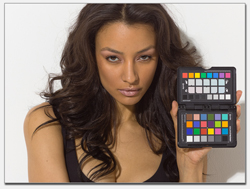 ColorChecker Passport 2 is a powerful 'capture to edit' color solution for any photographer looking for more accurate, consistent color and creative flexibility. And when you combine ColorChecker Passport with Adobe® Imaging solutions you'll gain even greater benefits. ColorChecker Passport combines three photographic targets into one pocket size protective, self-standing case that adjusts to any scene. Together with the included camera calibration software, you get the ultimate in functionality, flexibility and portability.
There are so many ways to incorporate X-Rite ColorChecker Passport 2 into your Raw workflow. Whether you take advantage of the entire solution, or just a couple of ColorChecker Passport's many features, you'll realize improved quality and productivity almost immediately.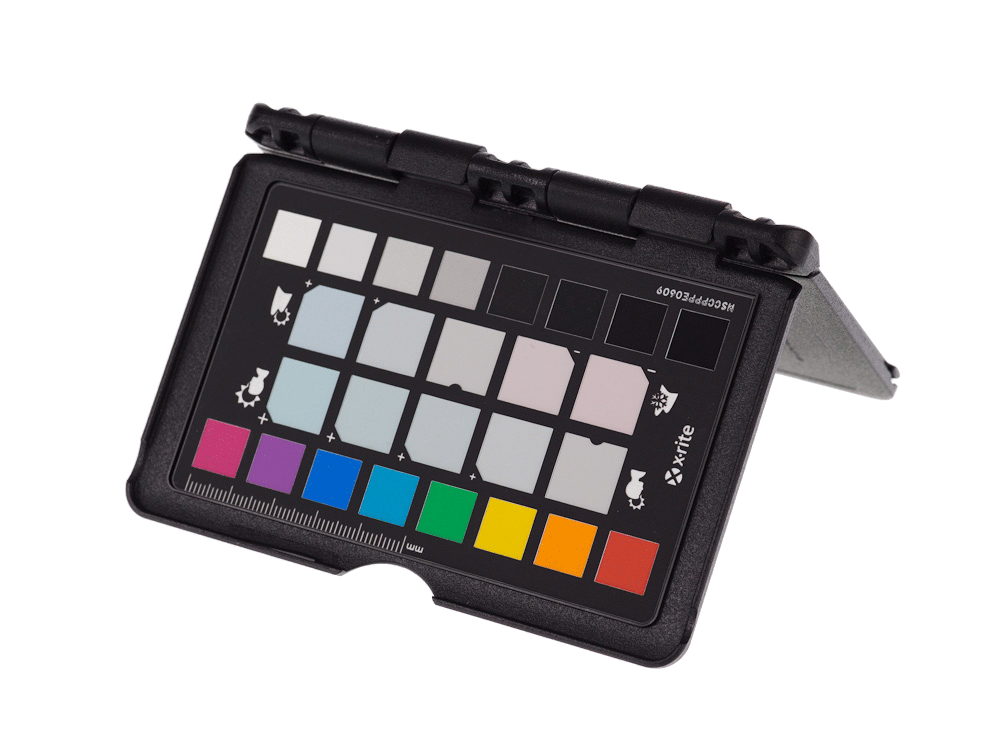 ColorChecker Passport Creative Enhancement Target – neutralize and create your look with enhancement patches; check and evaluate shadow details or highlight clipping; check and control color shifting


ColorChecker Passport Classic Target – industry standard color reference target for creating DNG profiles and for evaluating specific colors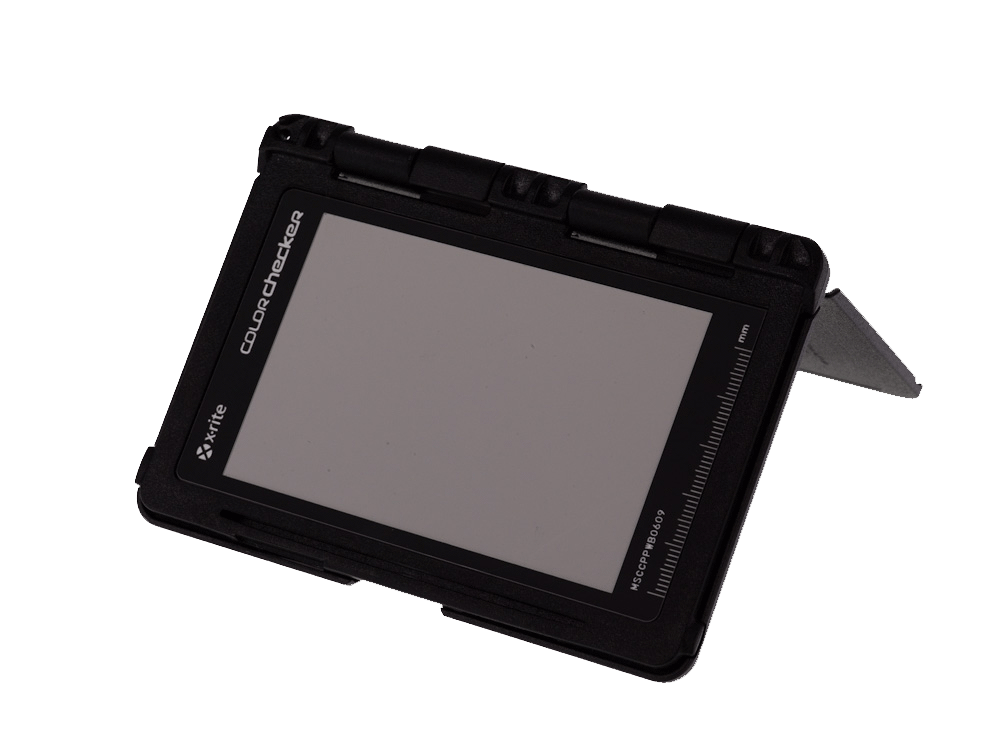 ColorChecker Passport White Balance Target – create custom in-camera white balance for a consistent white point in a set of images, eliminating the need to correct each image later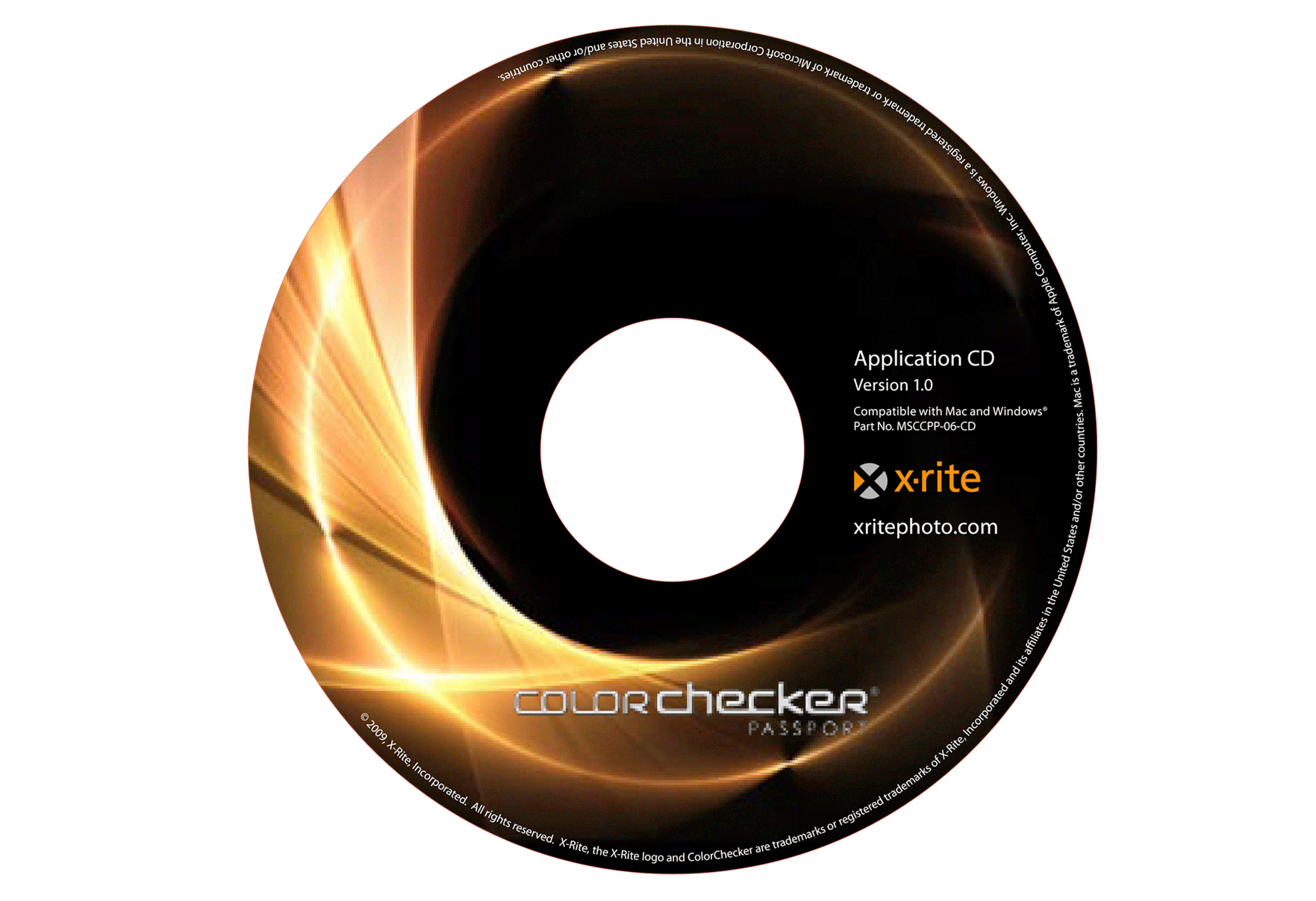 ColorChecker Passport Camera Calibration Software – includes both a desktop application and an Adobe® Lightroom® Plug-In for creating custom DNG profiles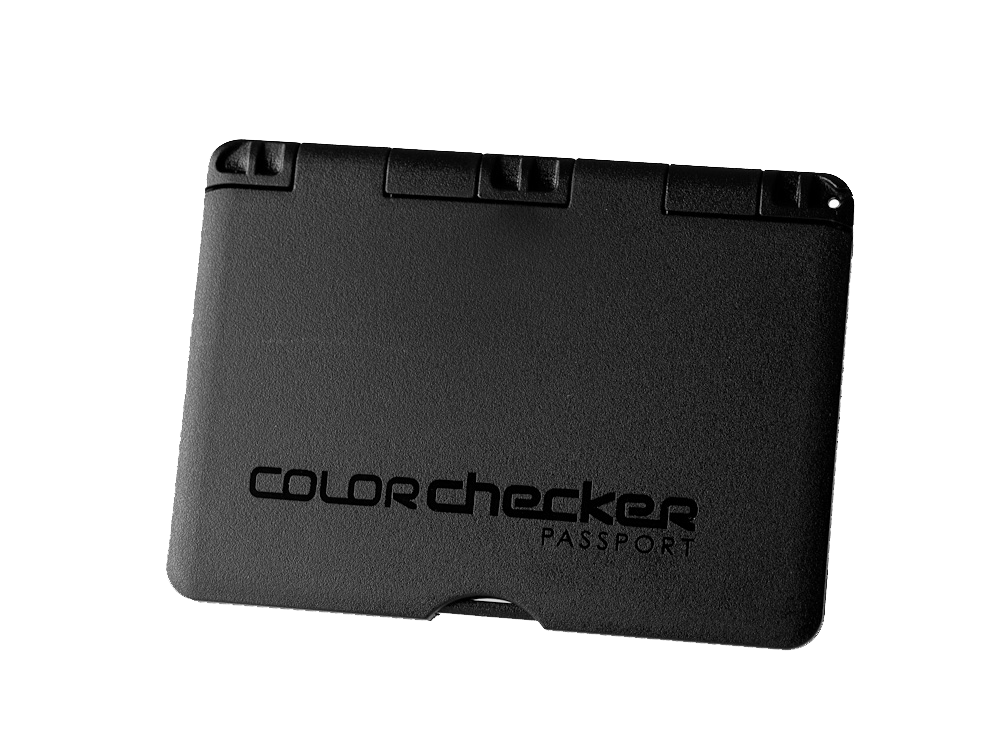 ColorChecker Passport Protective Case – adjusts to accommodate multiple positions so you can adjust the targets to any scene.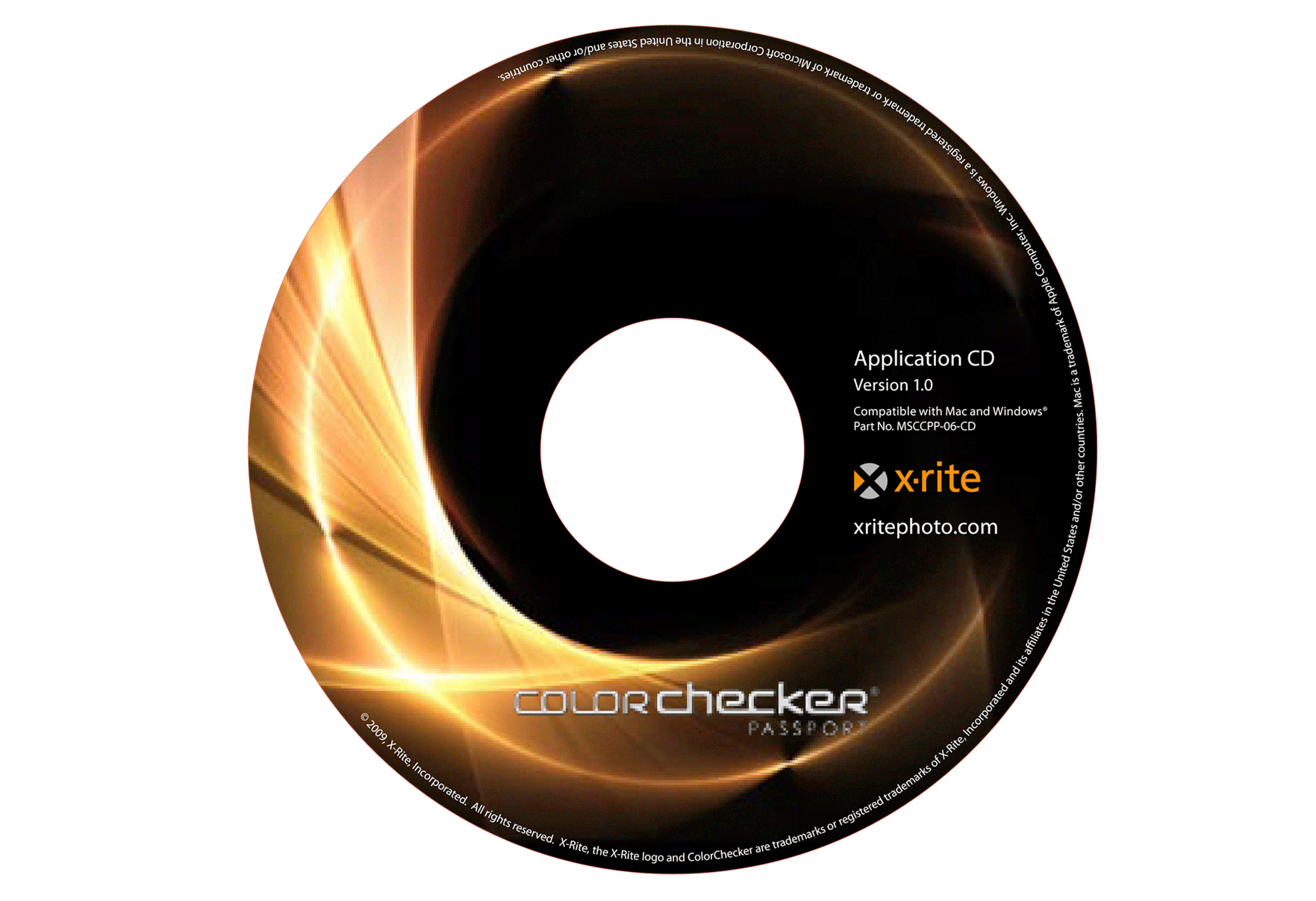 DNG ProfileManager Software – provides a single list of all installed DNG profiles, including non-printing image data such as file name, camera, light-source(s), and creation date. (Separate download found under Support)
SHOOTING JPEG NOT RAW?
You'll still gain many great benefits when you include ColorChecker Passport in your workflow.
White Balance Target
Ensure your JPEG files are captured with the correct white point
Eliminate the chance of any extreme white balance errors which cannot be corrected later in JPEG workflow
Save time on post production edits of each individual shot
Creative Enhancement Target
Evaluate and optimize shadow details or highlight clipping with gray ramp patches
Use as visual reference for color spectrum and color adjustment with HSL (hue, saturation, lightness) patches
Warm or cool images
Classic Target
Photograph the Classic target in the same lighting as your images and use as a visual reference to help with color correction
---
Features: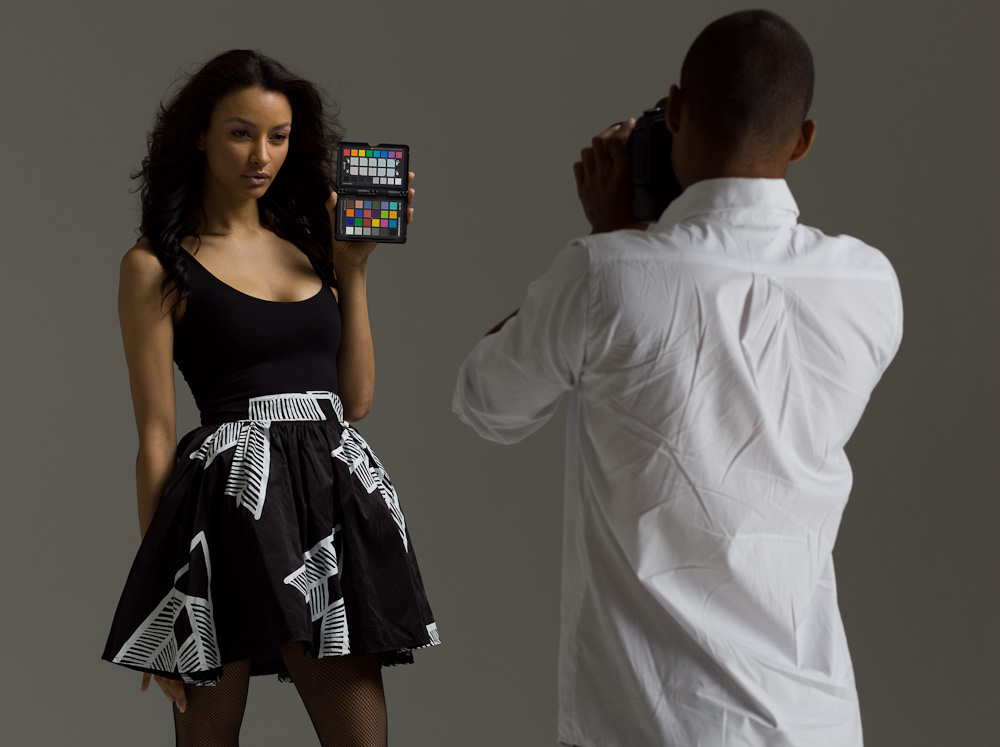 A Color-Managed Workflow that Inspires Creativity ColorChecker Passport offers you an unparalleled tool to attain full color control and customized creative enhancement from image capture to post-processing.
The art of color management is all about getting your colors to match from input to output. That means your camera captures true colors, your monitor displays them accurately, and your printer produces a photo that matches what you see on screen. The ColorChecker Passport is an essential component to attaining a 100% color-managed workflow. Plus, the included Enhancement target helps you take your vision one step further by providing the creativity to quickly and easily edit and express your colors just as you've always imagined. Whether it's a studio shot, a colorful nature scene or a multiple photo event, you can extend the power of your photo editing software with one-click enhancements that articulate your inspiration.
Shooting Raw provides greater flexibility to color-adjust images based on how a particular camera captures color. A calibrated Raw workflow minimizes color differences between cameras and lenses, adapts for mixed lighting, and makes it possible to color match across different scenes. ColorChecker Passport makes the camera calibration experience fast and easy. You'll have greater capability to edit color because you're starting with a consistent foundation. Plus, you'll be able to take advantage of your Raw processing software to automatically apply your profiles to a large number of images.
If your Raw processing application does not support custom DNG profiles, you can still use ColorChecker Passport to provide a physical reference for color editing. The Enhancement Target also offers such things as exposure evaluation and one-click white balancing for Raw editing packages that support these features.

WHITE BALANCE TARGET 

Starting with an accurate white balance ensures the colors you capture are true and provides a point of reference for post-shoot editing.
The ColorChecker White Balance target is an all-new spectrally flat target that provides a neutral reference point across different lighting conditions that you encounter during a photo shoot. Since the target reflects light equally across the visible spectrum, creating an in-camera custom white balance can properly compensate for varying lighting.
You'll be able to:
Eliminate color casts
Improve the color preview on your camera's display so your histograms are more reliable
Make post production color editing faster and easier by eliminating the need to neutralize each image individually
Setting a custom white balance for each lighting situation will make the previews on your camera's built in display more color correct, make your histograms more reliable, and speed up post production color editing. Raw shooters can capture anytime during the session to gain these benefits, while JPEG shooters should make it your first shot.
Why can't I use just any white object?
White balancing on a piece of paper or other gray element in the scene may seem like a simple workaround, but most objects are not actually neutral under all lighting conditions; and they're certainly not consistent. An inaccurate white balance will result in color casts and a lack of consistency between lighting conditions.
CREATIVE ENHANCEMENT TARGET
The all-new Enhancement Target provides a higher level of color creativity and control to your workflow. The Enhancement target includes four rows of color patches designed for image editing with just the click of an eyedropper. Whether it's a studio shot, a colorful landscape or a multiple scene photo event, you can extend the power of your photo editing software in virtually any Raw processing software.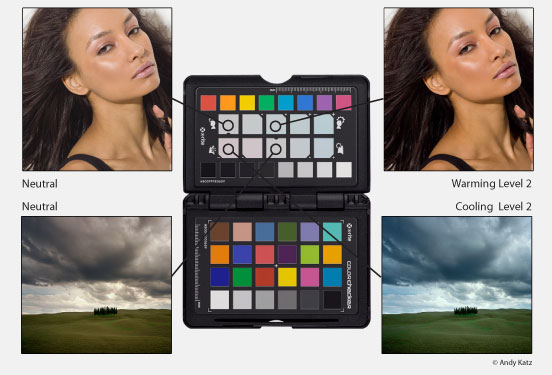 Two rows of warming and cooling patches in the middle guide you to create pleasing and repeatable edits. Creatively refine the color of your image by adding warmth to skin tones or boost the deep greens or blues in a landscape. Simply click through the patches to view the adjustment, and select the one that provides your optimal look. Then, save the setting and apply it to other images that were shot under that same lighting to create pleasing edits – it's that easy!
When it comes to clipping, the Enhancement target highlights the power of working in Raw. A row of clipping patches across the bottom serve as a visual reference for judging, controlling and editing images for shadow details or highlight clipping. Although it may appear from a preview that shadow or highlight details have been lost, it is possible that the processing software just clipped them and they are still available in the Raw file. With some careful adjustments, you may be able to bring them back.
The clipping patches are separated into two groups: light and dark. The light patches are ordered with 1/3 of an F-stop difference between them. The dark patches are ordered the same, with the exception of the last patch; which represents the blackest patch in the ColorChecker target. The exposure difference between the darkest and next darkest patch is approximately 1/10th of a stop, and the dynamic range of the target is about 32:1 (5 stops). In Adobe applications, use these patches along with the clipping preview to ensure you are not losing details.
Across the top of the Enhancement target, the top HSL (hue, saturation, lightness) row includes 8 spectrum patches to ensure color fidelity across all hues so you can evaluate and edit for any color shifts.
CLASSIC TARGET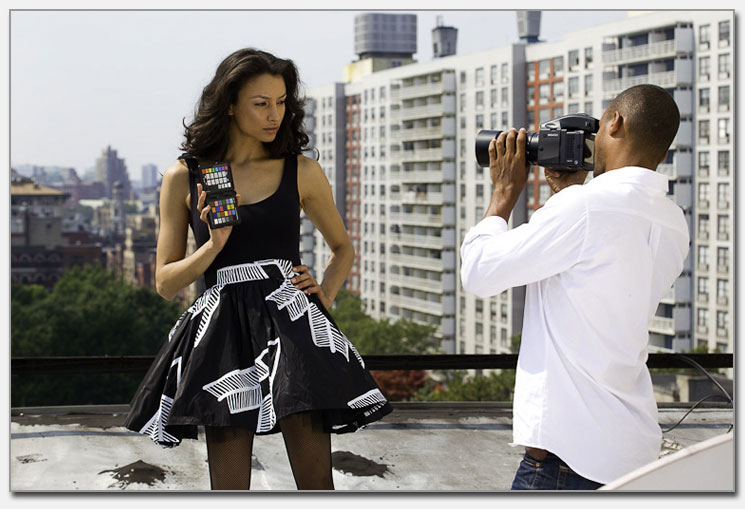 Photographing the industry standard ColorChecker Classic is an important step in attaining consistent, predictable color at capture.The ColorChecker Passport includes a travel-sized version of the Classic 24 patch target.  When combined with camera calibration software you can produce DNG profiles of your camera's response to scene lighting to get consistent, predictable and repeatable results from image to image and camera to camera.
The Classic target also provides a visual point of color reference. Photograph it in the same lighting as your images; then open it in your photo processing software as a reference to help with color correction. Each of the 24 color patches represents the colors of natural objects, such as sky blue, skin tones and leaf green; and each patch reflects light just like its real world counterpart. Each square is individually colored using a solid tone to produce pure, flat, rich color without dots or mixed tints.
The Classic can help you make global corrections based on accurate information. If you shoot a large number of images that all require the same color correction, you know that editing a few key photos and applying your changes can sometimes change colors you didn't intend to be changed. A shot of the ColorChecker Classic captured under the same lighting as your images will provide a point of reference, so you can see exactly how changes will affect the rest of your colors before you apply them. Since your changes can be applied to one photo or a group of images, you'll achieve consistency throughout your images.

CAMERA CALIBRATION SOFTWARE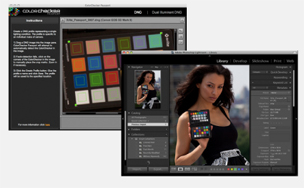 Build custom DNG profiles with the ColorChecker Classic Target, the industry standard 24-patch ColorChecker. With the included ColorChecker Passport Camera Calibration Application and Lightroom® Plug-In, you can quickly and easily build DNG profiles for Adobe® Imaging solutions including Lightroom®, Photoshop®, Photoshop® Elements, Camera Raw (ACR) and Adobe® Bridge.
This new advanced profiling technology provides excellent results with just the small 24-patch ColorChecker Classic target, producing DNG profiles that work exceptionally well, even in unusual artificial light sources. Plus, software auto-detection will locate the target automatically.  Whether you are shooting with just one camera or multiple cameras, you'll easily establish an accurate color foundation and maintain control of your colors.
Camera calibration for Raw shooters enables greater capability to calibrate and correct color
Accurate color gives a consistent foundation for creative interpretation
Minimize color differences between cameras and lenses
Adapt for mixed lighting
Make color balance match across different scenes
A very powerful feature of the software is the ability to create dual-illuminant DNG profiles. This type of profile takes into account two different light sources to create a single profile, which can be applied to an even wider variety of lighting conditions. Dual-Illuminant profiles can be made with any two of twenty-one supported illuminants, allowing you to create a profile for just about any kind of lighting condition you may encounter. Dual-illuminant profiles allow you the freedom to move between the represented lighting conditions without switching profiles.
PASSPORT-SIZED CASE



ColorChecker Passport is so convenient and portable. Make sure you take it with you to every shoot! The ColorChecker Passport's travel-sized case provides the ultimate in convenience. Made of a rugged material, it houses and protects the three ColorChecker targets from the elements and daily use to extend their lifespan.
The Passport case is adjusts to multiple positions to self-stand, allowing you the flexibility to place the targets exactly where you need them. Whether you need a single shot of the White Balance target, a 90-degree shot of the Classic or Enhancement target, or a parallel shot of them together, the Passport case can be perfectly positioned.
DNG ProfileManager Software – provides a single list of all installed DNG profiles, including non-printing image data such as file name, camera, light-source(s), and creation date. It also filters by camera or it can sort by any column header to provide the ability to correctly rename profiles (both internal and external names). Users can easily enable/disable profiles to prevent profile overload in Lightroom and Adobe Camera Raw (ACR) and quickly collect and export DNG profiles for backup or distribution.(Separate download found under Support).
---
Specifications:
SYSTEM REQUIREMENTS
Macintosh®
MacOS X 10.7.x, or 10.8.x, 10.9.x (with latest upgrades installed)
512MB RAM (2GB recommended)
Intel® Core 2 Duo CPU or better CPU
Up to 500MB of available disk space (depending on components installed)
Powered USB port
Monitor resolution of 1024 x 768 pixels or higher
Latest drivers for video card installed
DVD drive or high-speed internet connection required for software install, download and automatic software update
User must have Administrator rights to install and uninstall the application
Windows®
Microsoft Windows 7® 32 or 64 bit
Microsoft Windows 8® 32 or 64 bit
Microsoft Windows 8.1® 32 or 64 bit
All operating systems should have latest Service Pack installed
512MB RAM (2GB recommended)
Intel® Core 2 Duo or AMD Athlon™ XP or better CPU
Up to 500MB of available disk space (depending on components installed)
Powered USB port
Monitor resolution of 1024 x 768 pixels or higher
Latest drivers for video card installed
Dual display support requires either 2 video cards or a dual head video card that supports dual video LUTs being loaded
Network adaptor installed and driver loaded
DVD drive or high-speed internet connection required for software install, download and automatic software update
User must have Administrator rights to install and uninstall the application
Supported Profile Format
Compatible Software Supporting DNG Profiles
Adobe® Lightroom® 2.0 or newer
Adobe® Photoshop® Camera Raw 4.5 or newer
Adobe® Photoshop® CS3 or newer
Adobe® Photoshop® Elements 7 or newer
Adobe® Bridge CS3 or newer
For use in a Raw editor
Any Raw editor with click custom white balance capability
LANGUAGE VERSIONS
This product is available in the following languages:
English
French
Italian
German
Spanish
Portuguese
Simplified Chinese
Japanese
ColorChecker Passport Physical Specifications
Size: 125mm (H) x 90mm (W) x 9mm (T)
Weight: 80 grams or 3 oz
Humidity range: 85% or less, non-condensing
Temperature range for normal use of the case: 32° – 104° Fahrenheit / 0° – 40° Celsius